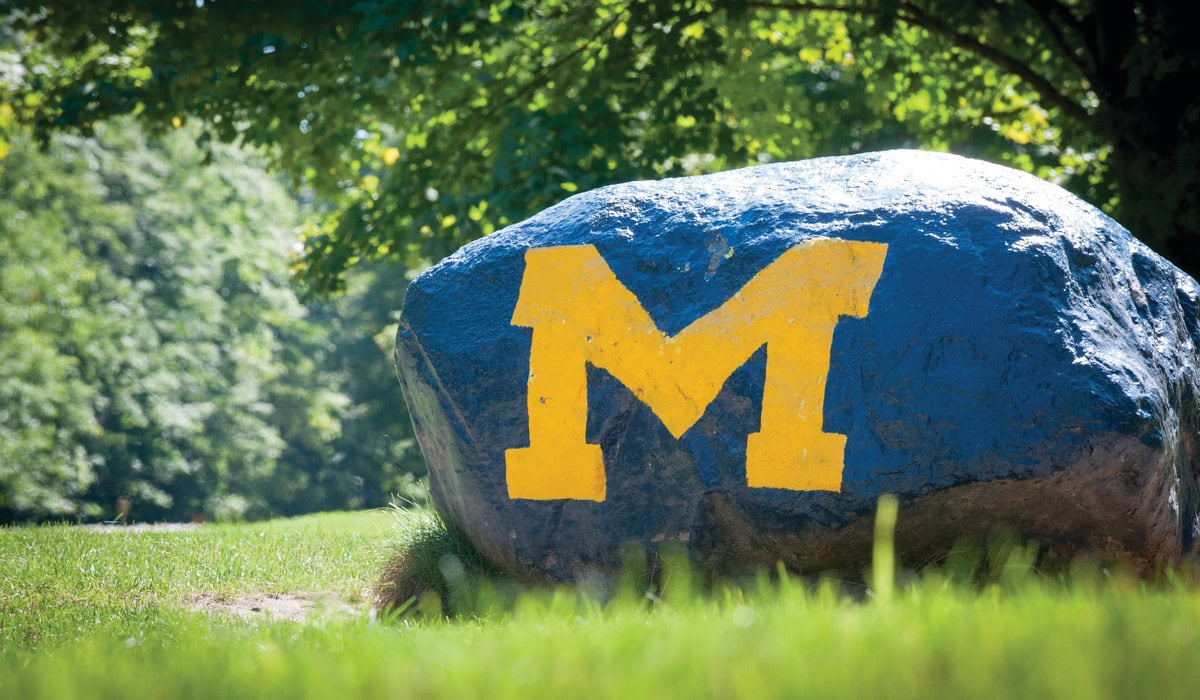 Working at Camp Michigania in northern Michigan could very well be one of the most memorable jobs of your life. You'll meet and network with amazing U-M alums, get to know children and adults who will change your life, and make friends you'll keep for a lifetime.
Each summer, around 75 passionate people are hired to help ensure Camp Michigania Walloon remains the special place it has been for over 50 years. Both current students and alums can be a part of the Camp Michigania staff. We hire individuals who are committed to Diversity, Equity, Inclusion, and Justice.
Staff members are hired to work in a specific program area and share responsibilities for the effective functioning of the camp as a whole. You can expect to work six days per week, and even though working at a family camp offers more off-work hours than a kids camp might, you are still expected to be a role model 24 hours per day.
Questions about the application process? Contact [email protected].
Diversity, Equity, Inclusion, & Justice
At Camp Michigania, we are looking to hire individuals who are committed to Diversity, Equity, Inclusion, and Justice (DEIJ), as defined by the Alumni Association's DEIJ strategic plan:
We commit to increasing diversity, which is expressed in myriad forms, including race and ethnicity, gender and gender identity, sexual orientation, socio-economic status, language, culture, national origin, age, (dis)ability status, and political perspective. We commit to working actively to challenge and respond to bias, harassment, and discrimination. We are committed to a policy of equal opportunity for all persons and not to discriminate on the basis of race, color, national origin, age, marital status, sex, sexual orientation, gender identity, gender expression, disability, religion, height, weight, or veteran status.
We commit to pursuing deliberate efforts to ensure that the Alumni Association (including Camp Michigania) is a place where differences are welcomed, different perspectives are respectfully heard, and where every individual feels a sense of belonging and inclusion. We know that by building a critical mass of diverse groups on campus (and at camp) and creating a vibrant climate of inclusiveness, we can more effectively leverage the resources of diversity to advance our collective capabilities.
We know that historically, Camp Michigania has not been representative of the diverse University of Michigan community among its campers or staff. This is why we are being deliberate in our recruiting efforts to not only support our DEIJ plan but also to help better represent the University community as a whole.
Basic Requirements for Employment
All hired staff members must be at least 19 years of age or have completed their first year of college when summer starts.
All first-year staff members must be able to stay for the entire contract period listed below to be considered in the first round of hiring.
All hired staff must be CPR/AED and first-aid certified before the start of the contract. Specific areas may require other specialty certifications (e.g., Swimming and Boating require Lifeguard Certification).
All hired staff must commit to training requirements before the summer, during the winter and spring semesters.
Important Dates for the Upcoming Season
Applications for employment are accepted on a rolling basis. First-round eligibility is reserved for those who apply by Jan. 31 before the start of the upcoming summer season and are available for the whole term of employment (reference each program area below for their term of employment).
The employment application is open on a rolling basis.
Jan. 31: First-round application closes for priority consideration. Applications are accepted year-round.
December-February: Interviews on a rolling basis for new and returning candidates.
March 1: General application timeline offers go out (if not before!).
March-May: Second-round interviews/offers on a rolling basis
Term of Employment
Dates are subject to change based on the University calendar, the camp schedule, modifications to the training schedule, and updates related to the COVID-19 pandemic.
We hope that the COVID-19 pandemic will continue to have a lesser impact on our operations. We were able to operate during the 2021 and 2022 summer seasons and are confident in our ability to navigate the necessary safety measures while providing an excellent camp experience. We will continue to consult recommendations and guidelines from the CDC, the University of Michigan, and other organizations.
Summer 2023 Employment Dates (subject to change)
Area Leadership Staff: May 22 – Aug. 26, 2023
Ropes/Riding/Riflery/Boating Staff: May 26 – Aug. 26, 2023
All other program area staff: May 30 – Aug. 26, 2023
Applications are accepted for candidates unable to commit to the entire term of employment. Please indicate and address this in your interview. New candidates are not eligible for a first-round job offer unless they're available for the entire term of employment.
If you are hired as a program staffer at Camp Michigania, plan on moving to camp the day before your start date. Your first day of work will begin at 8 a.m. on your start date — unless otherwise listed on your employment agreement — and will end after the end of the final workday. Move-out is not required until the following day. Due to the importance of Staff Training and the fact that we expect all weeks at Camp to be at capacity, strong preference will be given to candidates who are able to work the complete term of employment.
Staff Responsibilities
Program Staff
Program staff members are responsible for ensuring a successful and enjoyable experience for all campers. The main responsibilities of program staff include:
Teaching skills and facilitating educational and recreational experiences for campers.
Enforcing safety rules and guidelines for each area.
Collaborating with and reporting to their Area Leadership.
Assist in different areas, or even be reassigned, as needed.
Area Leaders
Area Leaders are responsible for the program in their specific areas. They report to the Associate/Assistant Director(s). Area Leaders supervise and work with other staff members in their areas. Being an Area Leader will require additional training and preparation prior to camp, starting as early as January.
The Area Leadership Retreat typically precedes camp and starts as early as Memorial Day weekend for the upcoming summer. Otherwise, the Area Leadership term of employment for each position corresponds to their area's start date or is negotiated on a case-by-case basis.
Lead Roles
Some areas are led by a Lead role, supervised by a Coordinator, or due to the size of the area or scope of the program, have Lead roles that report to their Area Leader. These roles are important to the operation of camp and aid in the supervision and execution of their program area's responsibilities. Lead roles can vary year to year and area to area.
Coordinators
Area Coordinators complete work in addition to that of a typical Area Leader, either programmatically or logistically. They may directly supervise staff in more than one area or complete tasks outside of the scope of the Area Leader role. All former Coordinators had at least a bachelor's level education already completed — though not required, some areas (Infirmary, Staff Care Coordinator) require advanced education. They also serve on a rotation for on-call response. In the past, there were 4-5 Coordinators who typically supervise 1-2 program areas.
Networking & Internships
Working at Camp Michigania provides an unparalleled opportunity to tap into the U-M alumni network. Camp provides a recreational setting that allows for many informal networking opportunities with more than 1,100 alums and their families throughout the summer. Through our Mentor Matching program, campers volunteer to be matched with staff who have similar career interests while they are at camp. Many summer staffers leave camp with professional connections that result in job-shadow opportunities, interviews for internships, or jobs, mentors, and introductions in their field.
Camp now offers a variety of positions as internships. As an intern at camp, you can gain the skills and networking experience of a classic internship but with beautiful Walloon Lake as the backdrop. Some schools or colleges have requirements for internships to receive credit, and Michigania's full-time staff are committed to helping students fulfill the necessary requirements through projects, mentoring, and performance evaluations. Indicate your interest in an internship on your application and/or contact [email protected] to investigate the options available to you.
Wellness
While working at Michigania, the wellness of our staff is of the utmost importance. As a member of the Camp Staff, you will have access to:
A Staff Care Coordinator and Infirmary Staff to assist with various health needs.
Digital and phone access to CAPS (Counseling and Psychological Services) for anyone needing professional support.
An array of fitness activities, including yoga, weights, and special classes just for Camp Staff.
Best of all, the camp atmosphere is very serene and relaxing. When not working, you will have the opportunity to enjoy the camp scenery and take care of yourself. Whether it be running, reading, or just recharging, there is something for everyone.
Facilities & Housing
At camp, you will live in staff cabins with your fellow colleagues in an area that is dedicated to just Camp Staff.
Generally, each staff member will have a roommate and share a bathroom between 2-4 people depending on their housing assignment.
In your free time, staff members have access to use camp facilities.
WiFi is available in most camp buildings, including staff housing, program areas, and the Education Center. There are camp computers available for staff use in the staff-only lounge in the Education Center.
Camp Life
Living at camp provides a lot of opportunities to build long-lasting connections with friends and your network of U-M alums and staff.
Typically, Program Staff work six days a week, with workdays starting at 8:15 a.m. and regular work hours ending at 4:45 p.m. Outside of these typical hours, there will be times each week when staff will be assigned to work programs in their primary area and general areas of camp in the evening.
Staff are provided with t-shirts and sweatshirts to wear as uniforms, and camp has free laundry facilities.
All meals are provided. Trust us, the food is great!
Employment Areas
Below you will find information on each individual seasonal employment area. When applying, you will have the opportunity to select your top choices and alternative program areas. You will also be able to share what experience or skills you have in those areas.