Michigan football legend Desmond Howard, '92, is investing in solutions with the LEAD Scholars program.
When University of Michigan star running back Blake Corum shared a photo of what seemed to be scattered papers to his Instagram story a year ago, Desmond Howard, '92, took notice.
The post came from the Black Student Union, depicting flyers that read "Black student enrollment is in crisis" and "Care about Black students?" — most of which had been haphazardly torn down from a display and were left littered across the sidewalk.
"You don't know who did it, but chances are these are some of the same people who fill the Big House on Saturdays and they cheer on these Black student-athletes who are there doing their thing on the field, which brings a lot of attention to the University, raises a lot of money for the University, and the University benefits in a big way from their contribution," Howard says. 
Since the passage of Proposal 2 in 2006, the percentage of Black students enrolled at U-M has significantly declined. In 2005, Black students comprised 7.26 percent of new first-year students on the Ann Arbor campus. In the fall of 2020, that number was only 3.42 percent, with 235 Black students enrolling for their first year, an all-time low since the proposal was adopted. Twenty-four of them were LEAD Scholars. In the fall of 2022, 338 Black students enrolled for their first year, comprising 4.79 percent of the incoming class. The Black Student Union was attempting to draw attention to the issue and it put forth a four-point platform called "More Than Four." 
Howard had been aware of the low enrollment numbers of Black students for some time and was bothered by the issue, but after seeing the social media posts, he knew it was now time to get involved.
"To know that the enrollment numbers of Black students at Michigan is less than 5 percent and that it has gone down since I was there is disheartening. It really is. That needs to be in the double digits," Howard says.
Desmond Howard is one of the most iconic names in the history of Michigan football. In 1991, he won the Heisman Trophy after a thrilling season (one of only three Wolverine players to win the award), catching 62 passes for 985 yards and scoring 23 touchdowns including the legendary punt return touchdown against Ohio State where he did the Heisman pose in the end zone.

After an 11-season NFL career that included a Super Bowl MVP title, Howard began his broadcasting career as a college football analyst for ESPN College GameDay. Now, the Howard legacy is expanding as he and his family join the LEAD community as donors, supporting Scholars through the Desmond and Rebkah Howard Scholarship Fund.
As an undergraduate student in the late 1980s and early 1990s, Howard was determined to get the most out of the opportunities and resources available to him. His father, J.D., instilled in him the importance of education and he wanted to be "more than just a football player." 
"I could have stayed in that little niche, so to speak, and just existed there. But that's not who I am. I wanted to see how I fit into this community, this new environment," he says. 
He remembers going to the law quad and listening to different speakers share experiences from the Holocaust to the Civil Rights Movement. He's spoken widely about the importance of mentorship on his personal development, both on and off the field.
"I think about my time there, and I think being around certain people, there's just that whole experience that you get when you find out that this world is so big because you speak to people from different environments, from different cultures, from different countries," Howard says. "And you do want other people to have that same experience, the same opportunity to get that experience. That's why this is so, so important to us."
Howard reached out to Tabbye Chavous, U-M's chief diversity officer, to learn more about the problem of enrollment at U-M and how to address it.
"There are people who will sit on the sidelines and they'll talk about it, they'll complain about it, but they're not doing anything actively to try to change it. And I just feel like that's what I should do," Howard says.
With a plethora of opportunities to support various programs on campus, the Howard family chose the LEAD Scholars program, which supports underrepresented minority students with scholarships, community, and more. The students can apply to the program after they are admitted to the University but have yet to make their final decision about where to attend college.
"I like the fact that the mission is to bridge that gap between students who have been admitted but may not be able to go because of financial reasons," Howard says.
Beyond his generous gift to the program, Howard is also helping spread the word about LEAD and the importance of diversity on college campuses with his own platform.
"There's various ways you can make a change. And this is one of the ways that I want to donate my name, my talents, my platform, my resources to make a change in this particular space," he says.
Though the financial support of a LEAD scholarship is a significant draw for many students, the community and mentoring aspect of LEAD is also incredibly important to the Howards. Desmond Howard recognizes he had a built-in community with football, but says it may not be as easy for others.
"Once you get these talented young men and women on campus, [it's important] to be able to make them feel like they're part of the community, to keep them on campus. And LEAD is really good at that," he says.
The issue of diversity on college campuses is especially important to the Howard family as their sons, Dhamir and Desmond Jr., begin applying to colleges themselves. As they visit different schools and explore their options, Rebkah and Desmond Howard encourage them to find somewhere that they will be comfortable and be proud to call their alma mater one day.
"As far as [the University of] Michigan is concerned, the numbers may be low right now, but they're actively trying to do something. Exposing them to this LEAD program makes them aware that Michigan is trying to do things. That means a lot to me: they recognize the problem and they want to do something about it," Rebkah Howard says.
Rebkah Howard is an alum of the University of Maryland and Howard Law but she cares deeply about the U-M community, saying it holds a "dear place in her heart" and "produced two of the people she loves the most" — her husband, and their daughter, Sydney Wade, '14.
Wade, who majored in communications, worked for Team Blue, and went on to work in the NFL, remembers how it felt to be able to interact with students from all over the world.
"I don't know if you realize when you're a student how valuable that is until later," Wade says.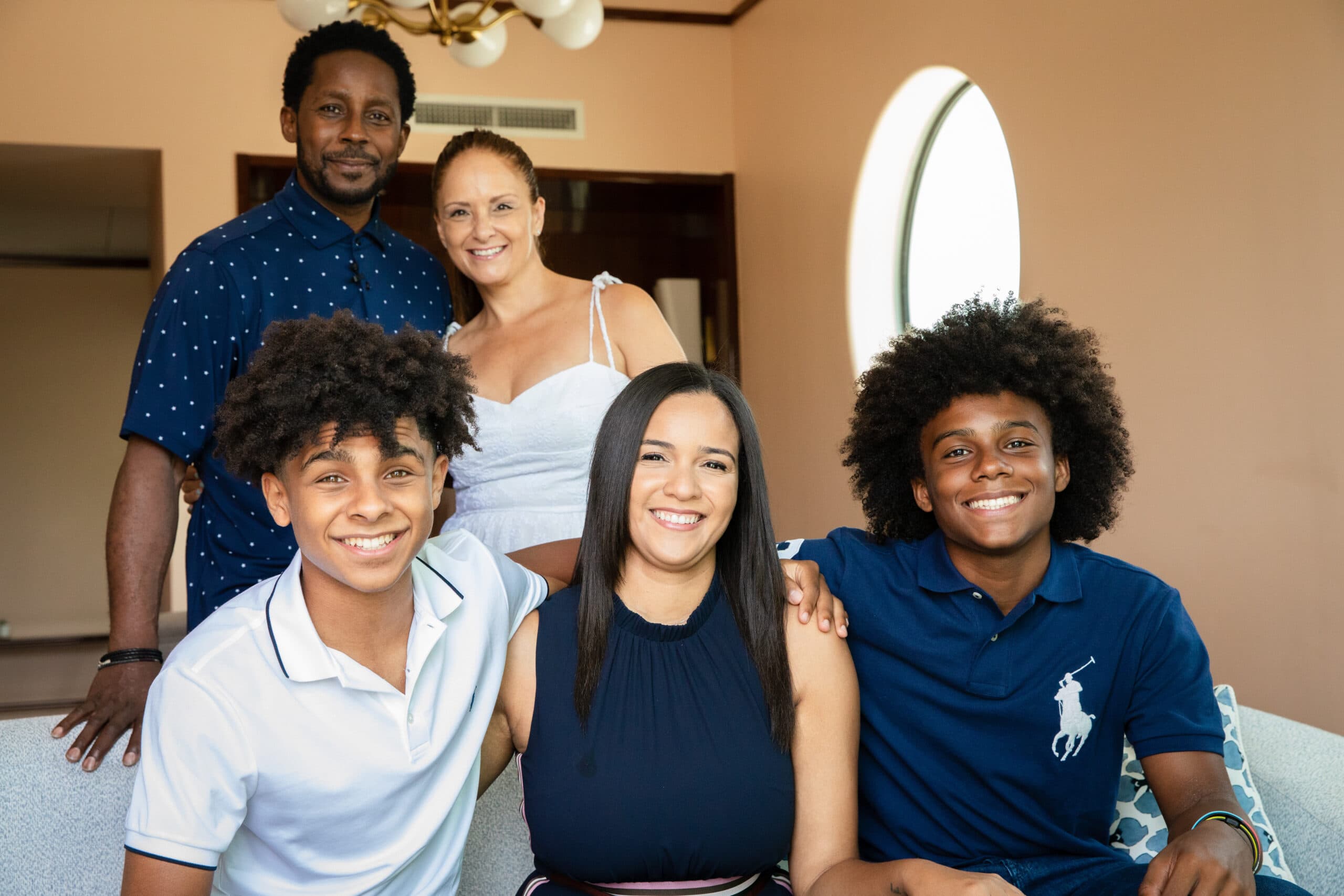 But the issue of eliminating race as a factor in college admissions extends beyond undergraduate campuses, as it affects who is qualified to get into competitive graduate schools, obtain certain jobs, and access the alumni network that might help get them into those spaces. This is something Wade has noticed in her career and one of the reasons she went on to get her MBA — so she can help be part of the change.
"A big point for me in going to business school was making sure that more Black executives are at the forefront of teams, leagues, and companies tied to sports. And not only that, but Black female executives. That's really important for me," she says. "I think I've been very fortunate that everywhere I've been, I've had a lot of great mentors along the way, men and women of different ethnicities, races, and backgrounds, but I've never actually had a Black female mentor in the sports teams or spaces that I've been in."
Though the Howard family decided to support LEAD months prior, the Supreme Court's race-conscious admissions ruling strengthened their resolve.
"For me, it only reinforced that this is such a necessary thing right now. The Supreme Court decision is chipping away any progress we made in this country since the '60s. This feels very backwards in time. It's going to be very necessary, to me it feels like an all-hands-on-deck situation. And LEAD has been leading the way," Rebkah Howard says.
For Desmond Howard, this fight for equality makes him think of Ruby Bridges walking into William Frantz Elementary School in 1960, escorted by four federal marshals for her first day of first grade at a previously all white school.
"Think about the courage it took for this little Black girl who's just 6 years old to go through that just so she can receive an education that's equal to what her white friends received. That's all she wanted. … All the courage [it took] to go to that hostile environment and try to do what she could to desegregate the schools. It's just been really important to me for us to continue that fight because the fight hasn't stopped," he says. 
Rebkah Howard emphasizes that supporting diversity at the University is really about supporting a well-rounded university community.
"It's important, not only for Black students, Latino students, Native American students to feel comfortable in the university environment that they're in. But if you're a young white student, or a parent of a white student, or an alum, think about how you want the Michigan experience to be as rich as possible for everyone," she says.
With his Wolverine jersey number retired, his name in the College Football Hall of Fame, and his iconic Heisman pose forever memorialized, Desmond Howard is ready to expand his and his family's legacy with LEAD.
"I would love for my contribution to LEAD to be part of my Michigan legacy. It's just that important to me," he says. "When they mention that I won the Heisman, I would love for them to also mention my contribution to LEAD."
---
KATHERINE FIORILLO is the editor of the Michigan Alum.