Many U-M grads hold tight to their memories of the Diag, but only Adam Mael, '11, has gone so far as to recreate the Central Campus hub out of more than 30,000 Legos.
"Lots of folks quit playing with Legos when they get older, but I never did," says Mael, who lives in Brighton, Michigan, and works as a graduate program coordinator for U-M's Department of Mechanical Engineering. "It's just a fun way to be creative."
While it may sound like the ultimate pandemic project, Mael actually started building the Lego campus three years ago, beginning with Angell Hall. "From a building challenge standpoint, it's really interesting because it's four separate buildings (Angell, Haven, Mason, and Tisch) that have just sort of grown into each other. Each of them has this unique architectural style, but they still fit together and flow from one to another," explains Mael, who led campus tours in his undergraduate days.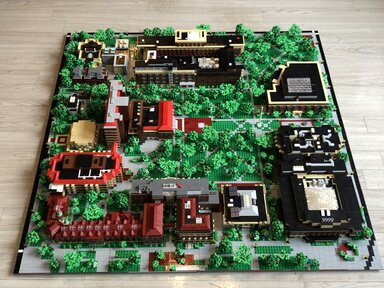 This was not Mael's first Lego homage to U-M. Previously, he built from the interlocking plastic bricks a Wolverine football; the winged helmet; the former Heisman Trophy winner Desmond Howard, '92; and even Burton Memorial Tower.
Upon completing the Lego Angell Hall, Mael mapped out plans to construct a couple more campus buildings, having enjoyed the project so much. Then, when he and his wife purchased a home with more space for his pastime, he thought, "Wouldn't it be cool if I made all of them?'"
But Mael's first Lego version of Angell Hall wasn't long for this world.
"While we were moving, it fell and shattered everywhere," says Mael, who ended up using the setback to redesign the building in a way that informed how he built the subsequent buildings. "I started using base plates that snap together. It's annoying and time-consuming to use them, but the Diag's different parts are now easy to move because you can just lift up buildings and take them somewhere by separating the base parts."
Things progressed slowly at first. Mael — who used Google Maps images for reference and occasionally consulted with the online Lego building community — was able to work on his U-M Lego land only during evenings and weekends.
Then the pandemic hit.
Mael suddenly found himself at home with a lot more free time. With most of the buildings completed, he tackled the landscaping and finished the project between mid-March and the beginning of June.
"I would much rather life be normal, but I do think the current situation is the only way that I actually finished it this year," admits Mael.
The U-M Museum of Art was the last building on campus Mael constructed and, he says, the most challenging. "All the other buildings are built from the bottom up, stacking one piece on top of another," Mael explains. "But the museum has all sorts of architectural quirks and features. Things had to be attached from all directions. Some from the sides, some underneath. It was a much more unconventional design."
All of the more than 30,000 Legos Mael used in his 3-foot-5-inch square Diag (approximately 22,000 pieces for the buildings and 8,000 to 10,000 for the landscaping) were preexisting pieces, either from his collection (he has more than 175,000 pieces) or purchased online. (The only non-Lego additions are two flag stickers he created for the Diag's pole and the brass Block M in front of the Hatcher Graduate Library.)
When he finally finished the project, he says he had "one of those sit-back-in-your-chair moments." He thought, "Look what I did! That's really cool!"
His fellow alumni certainly thought so. A post on the Alumni Association's Facebook page in November 2020, garnered nearly 200 comments and more than 400 shares. Not surprisingly, one alumna asked, "Are there any tiny squirrel Legos?" While another wrote, "Make it into an official set and I will buy it!"
---
Jenn McKee, '93, worked for more than a decade as a staff arts reporter for The Ann Arbor News. She's now a freelance writer.