When Michelle Oakley, '91, was 11 years old, she met the famed English primatologist and anthropologist Jane Goodall.
When Oakley approached her hero at a book signing event at Chicago's Lincoln Park Zoo, Oakley told Goodall that she wanted to work with wildlife someday.
"And I'll never forget it," Oakley says. "She looked at me and said, 'You shall.' It was like she destined it into being."
Oakley fulfilled Goodall's prophecy, though neither the hero nor her admirer could have predicted what followed.
Today, Oakley is a veterinarian headquartered in Haines, Alaska, and the title star of National Geographic Wild's "Dr. Oakley, Yukon Vet." Oakley's career has taken her into homes and barns and remote areas of the wild, often with a daughter—or three—in tow. Her work has included conducting fertility exams on dairy cows, performing emergency c-sections on dogs, and treating cats with diabetes. She has also been dropped by helicopter into a field of bison, completed a checkup on an ornery owl, and been shaken by a sedated grizzly bear's sudden interest in taking a stroll.
"It's hard, cold, and nasty at times, but I wouldn't trade it for anything," Oakley says. "After all, this is what I wanted."
Landing in the Yukon
As a young girl, Oakley rode horses, milked cows at her uncle's dairy farm, and devoted hours to observing animals dance around the creek near her Munster, Ind., home. Studying zoology at U-M was a natural pursuit. Over two summers as an undergraduate, she helped a U-M Ph.D. student study ground squirrels at Kluane National Park in the Canadian Yukon.
"We camped out the entire summer. It wasn't glamorous, but I got to see the whole ecosystem around me," says Oakley, confessing she initially thought the Yukon was in Mexico.
Those summer excursions sparked Oakley's love affair with the Yukon's vast wilderness. After graduating from U-M, Oakley returned to work as a technician for Yukon Fish and Wildlife before earning her veterinary medicine degree in 2000 from Atlantic Veterinary College in Prince Edward Island, Canada. She then spent nine years as a government vet before deciding to pair contract work with her own veterinary practice in Haines Junction, a Canadian town of 600.
"I had young daughters and this was a way I could get that work-life balance, and even bring the girls with me," Oakley says.
It was about that time colleagues forwarded her an email from National Geographic. The company was interested in a reality show following a wildlife vet.
"I wasn't seeking to be on television and I honestly had no idea what it would mean," Oakley says.
The first "Dr. Oakley, Yukon Vet" aired in April 2014. It follows Oakley tending to domestic pets, farm animals, and wildlife in an area where she is the lone veterinary option. Sometimes she performs procedures for the first time with cameras present. She feels that authenticity resonates with viewers.
"There are specialists who could do 10 times better than me in some situations, but that's not possible here," she says. "I do the best I can without knowing everything. People see I'm not perfect and I think they appreciate that."
Oakley believes viewers also enjoy the show's family nature, as audiences have watched Oakley's three daughters—Sierra (24), Maya (23), and Willow (17)—grow up on screen and accompany their mother on calls.
"I've never been good at scrapbooking, so this show has become a wonderful record of family memories," Oakley says.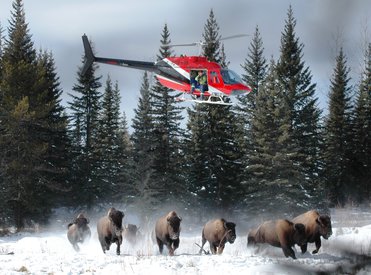 The perks of show business
The television series, which recently began filming its 11th season, has provided Oakley widespread notoriety and attention. Fans stop Oakley in airports, restaurants, and hotel lobbies to request photos and ask questions like "Is the show scripted?"
"I'm not even sure what that means," she says. "There are no do-overs with animals."
In 2019, InStyle named Oakley to its Badass 50 Women list alongside the likes of the late Betty White, Olympic gymnast Simone Biles, and Michelle Obama. The magazine recognized Oakley's veterinary efforts as well as her work to promote wildlife conservation. And Instagram posts from Oakley under the handle @yukonvet generate thousands of views, likes, and comments.
Oakley's role on television has opened doors to once unthinkable opportunities to travel and work with wildlife around the globe—including in Europe, Asia, and Central America. When wildfires flared across parts of Australia in late 2019, Oakley visited the country and operated mobile veterinary clinics. Those efforts, captured in a "Dr. Oakley" episode, concluded the show's eighth season.
The series has enabled Oakley to feed her "vet habit," providing her the means to run pop-up vet clinics in small towns across Alaska and purchase vital field equipment like portable machines for X-rays and anesthesia. It has also allowed her to learn from specialists whose knowledge and insights inform and broaden her veterinary work. One researcher in California showed Oakley how covering animal burns in fish skin could reduce infections and expedite the healing process.
"Now, I'm using fish skin all the time. I get geeky about the cutting-edge stuff," says Oakley, who credits her U-M zoology studies, and professor emeritus Philip Myers, for preparing her for such diverse work.
Every year, Oakley wonders if the ride will end. The true reality of television is that every show continues only with a network's blessing and "Dr. Oakley, Yukon Vet" remains a year-to-year proposition.
But even if the cameras leave, Oakley assures her mission and purpose will remain. She soon hopes to start a pet product line and launch a foundation supporting veterinary access.
"The work I do is needed and it's work I love," she says. "I don't intend on going anywhere."
---
Daniel P. Smith is an award-winning, Chicago-based journalist.