On Monday, March 9, with temperatures climbing above 60 degrees, the Diag was abuzz with students hurrying off to class, miraculously avoiding collisions as they toted backpacks and checked cell phones. Spring was in the air.
Two days later, that picture was about to suddenly and dramatically change as President Mark Schlissel announced that the University was canceling in-person classes and instructors would deliver lectures remotely to help stem the spread of COVID-19. Soon after, Spring Commencement—where former Vice President Al Gore was slated to speak—was canceled as well as all sporting events, and students were encouraged to head home.
Within days, nearly all foot traffic on campus had vanished.
Michigan Alumnus reached out to a number students, some still on campus, around the time Michigan Gov. Gretchen Whitmer announced her statewide "Stay Home, Stay Safe" order on March 23. They shared how the pandemic is affecting their lives.
Wuhan Warning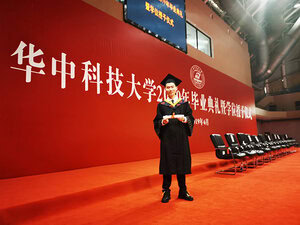 In mid-January, Yunfan Zhou, a first-year graduate student in U-M's School for Environment and Sustainability (SEAS), began to get texts from his friends in Wuhan, China, telling him about a virus sweeping through the city.
Zhou earned his undergraduate degree in urban planning from the Huazhong University of Science and Technology in Wuhan before coming to Ann Arbor in September 2019. "A lot of my friends told me they would get stuck, because the whole city was shutting down," Zhou recalled. Luckily, his friends are safe and healthy, and Wuhan has begun to open up again.
Now, Zhou is the one who is stuck in Ann Arbor due to the governor's order to stay home as much as possible. He recently moved into a friend's apartment.
Much of his course work is normally done in the SEAS studios, where he draws landscape projects on large sheets of paper. Under remote learning, students have to do their drafting work via computer screens. It's been difficult for some of his classmates to switch over to digitizing their work, a skill Zhou learned in China.
Still, he believes the University was right to act swiftly. "It was necessary to do that, and I'm very supportive of those strict measures."
While many of the parents of Chinese students at U-M are urging them to return home when the semester ends, Zhou would like to get an internship in the U.S. and worries about exposing himself to the virus while traveling home. He also does not want to make any plans right now. "You never know what is going to happen in the next two weeks."
So Long, Switzerland
In mid-March, Molly Kalb, a junior in the Ford School of Public Policy, was frantically packing her bags in Geneva, two months before the end of her semester at the School for International Training.
Kalb had been excited to land a spot in the highly competitive global program focused on international studies and multilateral diplomacy. She had become close friends with her cohort of 20 students, with whom she took Swiss Rail trips to towns like Zermatt, at the foot of the Matterhorn.
"I totally fell in love with it," she said of Switzerland. "We all said that if we ever became millionaires, we'll get a house in the Alps."
Her program involved daily lectures, a homestay with a Swiss family, and French classes. Given the students' interest in international affairs, "we were all very aware" of the growing threat from the coronavirus, especially due to the breakout in nearby Italy, Kalb said.
But Switzerland had not yet put restrictions in place when Kalb received the email from the University canceling Michigan's study abroad programs. Because her program was not formally part of U-M's abroad programs, Kalb wasn't sure what she should do.
After a flurry of emails from her worried parents and the University, she boarded a plane for New York.
Now back in her parents' home in Connecticut, Kalb is finishing papers to complete her study abroad program and continuing her French class via Zoom video conferencing.
"I was so sad my time abroad got cut off," she said. "I was lucky to get two months in. I'd really like to go back."
Goodbye Senior Year
Isabel Virtue's senior year will now end with a whimper, not the celebratory bang she hoped to share with her parents and sister.
"It sucks," she said candidly of her canceled commencement events. "They're saying that they hope they can find another time to do it, but there's nothing concrete."
When classes went online, Virtue decided to remain in Ann Arbor rather than return to her parents' home in Muskegon, Michigan. "It feels weird to not have anywhere that I need to go and to wake up in the morning without having a routine set for the day," said the political science major.
While her professors post prerecorded lectures, students are allowed to watch them at their convenience. "It feels wrong to just be sitting at home all day—like I should stop being so lazy or something."
The emptier campus is "making it feel like the school year is over, similar to when I lived here in the summer, but more eerie," Virtue said.
Her biggest concern has been landing an internship or a job after graduation. Virtue has interviewed for positions in both Lansing, Michigan, and Washington, D.C., but has not yet received an offer. "Now, nothing is moving forward."
Halted Projects
Sophomore Michal Ruprecht's busy semester on campus seemed to evaporate overnight. A neuroscience major, he is also co-chair of the Flint Justice Partnership—a student project born in the wake of the Flint water crisis—an assistant news editor at The Michigan Daily, and a research assistant at a molecular lab.
"Everything is kind of weird right now," he said of his upended schedule.
His regular classes are lectures, which are now delivered online, either prerecorded or live at the regular class time. Instead of sitting in a lecture hall, he now sits in front of his computer at his parents' home in Grosse Pointe, Michigan. In his lab classes, the students would ordinarily perform hands-on experiments themselves at stations in laboratories. Now, they watch as graduate assistants do the lab work they are meant to be doing.
"We've been exposed to technology in a way that I don't think students have ever been exposed to technology," Ruprecht said.
Setting a routine has also been challenging for Ruprecht. "When you're home, it's hard to have things to guide my day," he said. "I set regular alarms on my phone to let me know when class technically starts. There are a lot of new updates coming every day. A lot of my profs are stressed out. I'm stressed out also."
A few days after arriving home, he learned that Michigan Medicine requested supplies, specifically ethanol and masks, from one of his two lab classes."I definitely miss doing normal things like spending time with friends," he said. But he also sees the wisdom in being at home. "Health is more important than anything else," he said. "Success can wait for another time."
---
Micheline Maynard is an author and journalist who was a Knight-Wallace Fellow in 1999-2000.