Flashing a smile, Braylon Edwards, '17, shared his memories of Nov. 22, 2003. Standing in the Big House, a rose dangling from his lips, he celebrated with his teammates and nearly 100,000 fans as the team emerged victorious over rival Ohio State and claimed the Big Ten title.
"That moment culminated everything that I had strived for," Edwards says.
But being a Michigan Man, Edwards would come to learn, was about more than gridiron glory — just as his father, former U-M standout Stan Edwards, x'82, promised.
A running back, Stan played six years in the NFL, while Braylon, the third pick in the 2005 NFL draft and a 2007 Pro Bowl selection, caught 359 passes over an eight-year NFL career. U-M, both father and son agree, prepared them for NFL careers, but delivered so much more.
Michigan Alumnus contributing writer Daniel P. Smith connected with Stan and Braylon Edwards to discuss their enduring ties to U-M on and off the field. The following has been edited for length and clarity.
SMITH When it came time to pick a college, Braylon, was Michigan always the frontrunner given your father's ties to the University?
BRAYLON EDWARDS Obviously when your father goes somewhere, plays at a high level, you want to follow in his footsteps, but he let me be my own young man. It wasn't a brainwashing situation. It was just natural.
SMITH And, Stan, how did you feel when Braylon selected Michigan?
STAN EDWARDS To say I was ecstatic would minimize how exuberant I was. One of the things I knew was that he was going to absolutely respect and love the decision that he made.
SMITH How did playing at Michigan prepare you for the NFL?
STAN EDWARDS Jumping from college to the NFL was easy for me because I had played at Michigan (under coach Bo Schembechler). We learned discipline. We learned order. We learned consistency. Everything was done the same way all the time.
BRAYLON EDWARDS When you go from high school to a big school like a Michigan, you're jumping in with NFL-level talent. That makes you look in the mirror your freshman year and ask, "Do you have it? Do you want it?"
SMITH Stan, your playing career closes with the Lions in 1987 and, Braylon, your career concludes during the 2013 preseason with the Jets. How would you characterize your transition into post-football life?
STAN EDWARDS My life was built around … being the dominant guy in the room and being physical. There was an 18- to 24-month period where I had to understand that wasn't my life anymore.
BRAYLON EDWARDS I was lost for a period. Football was all I'd ever known. It was my identity. And it just disappeared. I looked up and was like, "What happened? What do I do?"
SMITH So, how did each of you recalibrate?
STAN EDWARDS Once I was able to create a different mentality about how to approach things, it was easy for me to use my University of Michigan experience and degree in the business world, first in commercial insurance and now commercial real estate. My Michigan relationships took me to meet Stephen Ross, Sam Zell, Fred Wilpon, and some of the other real estate magnates that also walked Ann Arbor's halls and streets. Being from Michigan really aided me.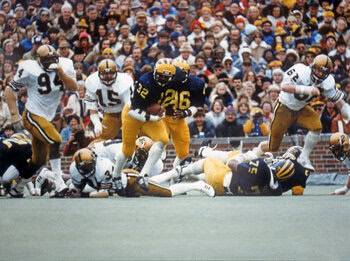 BRAYLON EDWARDS For me, going back to school was the bright point. Once I got back on the Michigan campus in 2017, I realized that I was way more than football. I re-realized that I could do anything I wanted to. I took the time to use the Michigan resources, use the alums, use the mind that I had before I even got to Michigan, and that started to plant seeds about what I could do next.
SMITH And how different was your second act as a U-M undergraduate compared to your first?
BRAYLON EDWARDS Well, I was old as hell! I was going on 34 at the start of the semester. The interesting part of it is when you go back as an older student, you're more focused because you know exactly what you're doing. I was much more regimented and disciplined. And the best part: no practice.
SMITH You walked in graduation on April 29, 2017. What did that mean to you?
BRAYLON EDWARDS That was something special. I was away for 13 years and didn't have to go back to get my degree, but I did. That gave me peace of mind.
SMITH And your post-football life included writing a book, "Doing It My Way," as well as getting involved in philanthropy, particularly at U-M. You established the No. 1 endowment to support Michigan football as well as inner-city education, donated $1 million to support scholarships for 100 students, funded concerts for the University Musical Society, and teamed with the U-M Depression Center to promote mental health. Why has this been important to you?
BRAYLON EDWARDS I am here. I want to be used as a vessel in any shape, way, fashion, and form. I don't just have to give a rah-rah speech to the football team. I can talk to students about time-management skills or mental health. I can talk to alumni about philanthropy and the importance of giving back. I have a bunch of hats and I would like to wear them all.
SMITH When you think of the University of Michigan, what does it mean to you?
STAN EDWARDS The University of Michigan has always allowed me to feel good about myself and my family. I mean, when I go to business meetings and conferences, I stand a little taller because of Michigan.
BRAYLON EDWARDS People say, "Oh, your school doesn't deserve all the hype." No, no, no, we do. And I appreciate you mentioning it because it lets me know that Michigan is everything that it's supposed to be. … It makes me understand I went to the right school.
---
Daniel P. Smith is an award-winning, Chicago-based journalist who has written previously for Michigan Alumnus about entrepreneurs such as real estate magnate Sam Zell and Five Guys Burgers & Fries founder Jerry Murrell.