Adetola Ojo Found Community in the LEAD Scholars Program
Photos courtesy of Adetola Ojo
Read the inspiring story of 2022 LEAD graduate Adetola Ojo
Three years ago, Adetola Ojo didn't think she'd be walking across the stage as a University of Michigan graduate. Not because she didn't think she would get into U-M, but because she never thought she'd stay.
But, through strife and challenges with grit and the support of the LEAD Scholars program, Adetola persevered. Now, she can't imagine calling herself an alum of any other university. The reason she found her place and thrived was because of the community your gifts have built for her and other LEAD Scholars.
Now, as she joins the ranks of the 645-000-plus U-M alumni in the world, she wants you to know just how powerful your support is—how it helped her rewrite her destiny as a Wolverine.
---
From a very young age, Adetola had a strong understanding of work ethic. Neither of her parents attended a traditional four-year institution, but growing up, she watched her father, a Nigerian immigrant, work all day and attend classes at night to earn a bachelor of science and two master's degrees. So, for the teen with pre-med dreams from Byron Center, Michigan, it was never a question of whether or not she would go to college, it was only a question of where.
Adetola knew she was destined for the big leagues—Yale or the University of Michigan, to be exact. Even after learning she was accepted to Yale following months on the waitlist, she still felt a calling to be a Wolverine.
"My dad was over the moon that his kid had gotten into the University of Michigan; he even came home with a Michigan t-shirt," she laughed, recalling her family's reaction after learning of her early decision acceptance. "I knew it was a big deal, but what truly made it feel like a big deal was seeing my parents live vicariously through me. They were so proud."
Adetola also recalled the exhausting process of filling out close to 100 scholarship applications only to receive one or two that weren't renewable. That's when her mom's coworker—a fervent Michigan fan and AAUM member—told her to apply for the LEAD scholarship.
"I knew the financial support was important, but the second I walked into the LEAD First Year Open House, it was evident that this scholarship was more than that," she said. "The LEAD team already knew my name and all of these things about me. It is so amazing that they take the time to get to know the Scholars before we're even on campus."
Being welcomed to campus by this diverse community of students was comforting to Adetola, who graduated from East Kentwood High School, the most diverse high school in Michigan and the seventh most diverse in the nation.
"I grew up a biracial girl gaining an education in an environment that represented all of the identities and celebrated all of the backgrounds that were held at our school," she explained. "That really ensured my sense of belonging and shaped the way I viewed the world. I only ever imagined my college experience the same way."
But as classes began her freshman year, Adetola faced the realities of attending a Predominantly White Institution (PWI) as a biracial woman.
"I would look around in a lot of my classes and realize that I was often one of the only people who looked like me," she recalled. "One time, someone asked me if I was an athlete because they said they had never met a Black person at U-M who wasn't there to play sports. I was shocked and couldn't stop thinking about these kinds of ignorant beliefs."
By her sophomore year in 2020, the country was headed into an election and was pervaded by political upheaval. She remembered the intensity around campus, but she never imagined she would end up in the midst of an exchange that would turn her world upside down.
"A student leader on campus had a verbal exchange with one of my friends on Twitter," she recalled of how it began. "I respectfully defended my friend, which ultimately resulted in this person sharing my home address and my contact information with their thousands of followers, most of whom were super radical. I can't even explain how fearful I felt."
For months, her world revolved around this event and the distress that came as a result of it. "Mentally and emotionally a wreck" is how Adetola described the state she was in when she went home for Thanksgiving break. By the time she came back for the last stretch of the semester before winter break, her grades were suffering, something the gifted pre-med student had never experienced. It was clear that the strife had taken a toll on her.
"I was stressed and I couldn't focus," she recalled. "I went home for winter break and never wanted to go back."
At that point, Adetola was actively seeking ways to transfer to other universities for a fresh start … but maybe she wouldn't have to leave for a fresh start after all.
"I was the first of 14 grandkids to go to college, so I was a 'trailblazer' for the family, so to speak," she explained. "So not only was it a huge deal that I was going to the University of Michigan, but it was a huge deal that I wanted to leave. They didn't understand why I didn't want to go back."
Dealing with something like this while away from home was completely uncharted territory for Adetola's family, but this was exactly the territory her LEAD family was meant to help her navigate.
Right here on campus, she had a close-knit support system of like-minded people who shared a unique understanding of these experiences—something brought to fruition by the generosity of you and your fellow LEAD donors.
Once the LEAD team was aware of Adetola's situation, they stepped in and offered immediate support, connecting her to other resources on campus that were instrumental in helping her work through this challenge.
"This was the first time I felt fully supported here—financially, socially, mentally, and emotionally," she recalled. "When something really wrong happened, my LEAD family rallied around me and told me that I was here for a reason, that I belonged here; that was the first time I heard that from anybody."
What it came down to, Adetola said, is realizing that she had earned her spot at U-M, and nobody could take that away from her. She didn't shy away from giving the LEAD Scholars program credit for being the reason she stayed.
"I knew that I had people in my corner who were going to fight for me to be here," she said. "They wanted me to be here and saw the need for people like me to be in these spaces."
After this experience, Adetola saw LEAD as a community she could start pouring her energy into as an agent of change.
"Nothing's going to change if people like me are still left out of these spaces," she said. "My whole thing is—once you get through hard things in life, once you have the power, strength, and courage—your job is to then empower and bestow that courage onto other people, and I wanted to do that."
Adetola joined the LEAD Advisory Board (LAB) and started as an event chair, seeing it as an opportunity to get acclimated with other Scholars. By her senior year, she became LAB president; she recognized the leadership role as a great way to capitalize on the connections she had already made and to engage more Scholars. She also thought the opportunity would be beneficial for LEAD on a campus-wide scale, exploring what else they could gain LEAD Scholars access to by spreading resources and being more integrated across campus.
Adetola said she wanted to make sure her fellow Scholars understood that they belonged at U-M. She saw LEAD and her LAB leadership position as a vessel for this mission.
"I wanted to be able to connect with Scholars through my personal experience and say, 'There are going to be hardships that may make you want to stop, and you may think this isn't for you or that you're not supposed to be here, or whatever these outside factors are trying to tell you. But you are supposed to be here, and there's a whole scholarship organization and Alumni Association in your corner. Be confident in the people you have around you and lean into them when you need to.'"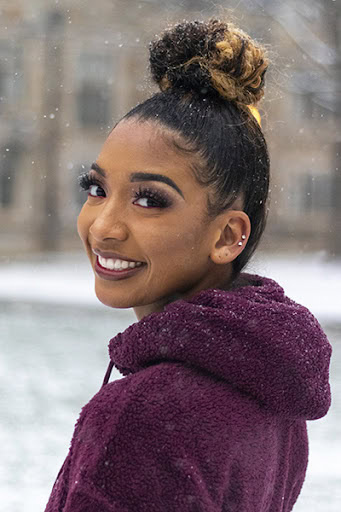 Now, a newly-graduated Adetola has her sights set on what's ahead with her bachelor of science degree in biopsychology, cognition, and neuroscience. Currently on the horizon: a gap year to save and prepare for medical school, where she wants to focus on research.
"I have so many things that I am planning to do, and I am so excited that you were able to ignite the fire," she said, adding that your gifts are what gave her this community during a time she needed it most.
"This is a program that is life-changing for a lot of people, myself included. Thank you for everything that you do—financially and socially— and for continuing to be what makes this special community thrive."